This 1914 Princess Mary Tin is part of our War and Weaponry Collection,
It was Princess Mary's express wish that 'every sailor afloat and every soldier at the front' should have the present. The gifts were devised in October 1914 and intended for distribution to all who were serving overseas or at sea, in time for Christmas 1914.
It was intended to contain one ounce of pipe tobacco, twenty cigarettes, a pipe, a tinder lighter, Christmas card and photograph. However, quite early on, the committee in charge received strong representations that an alternative gift should be made available for non-smokers. It was then agreed that non-smokers should receive a packet of acid tablets, a writing case containing pencil, paper and envelopes together with the Christmas card and photograph of the Princess.
This Athenian Tetradrachm coin is part of our Trade and Economy Collection.
The tetradrachm is an ancient Greek silver coin equivalent to four drachmae. It was in wide circulation from around 510 to around 38 BC.

The Athenian tetradrachm was stamped with the head of the goddess Athena on the obverse. The reverse was stamped with the image of the owl of Athena, the symbol of the Athenian polis, with a sprig of olive and a crescent for the moon. It was known as glaux (γλαύξ, little owl) throughout the ancient world. This gave rise to the proverb 'an owl to Athens', referring to something that was in plentiful supply, like 'coals to Newcastle'. The reverse is featured on the national side of the modern Greek euro coin.
The drachma was the currency unit used in Ancient Greece over several centuries. Some economists have estimated that in the 5th century BC a drachma had a rough value of 37 pounds (as of 2015). Historians say that in the heyday of ancient Greece (the fifth and fourth centuries BC) the daily wage for a skilled worker or a soldier was one drachma.

This tells us that a tetradrachm was worth about four times a skilled worker's daily wage, and could buy luxuries such as jewelry and horses.
We have this beautifully preserved, complete Roman oil lamp in our Design and Technology collection. It appears to have been recovered from a shipwreck and dates between the first and third centuries AD.  
Roman lamps were very simple devices, consisting of an oil chamber and a projecting nozzle. Olive oil, the fuel most often used, was introduced through a filling-hole in the top of the chamber and a wick, normally of linen, was inserted into a wick- hole pierced in the nozzle.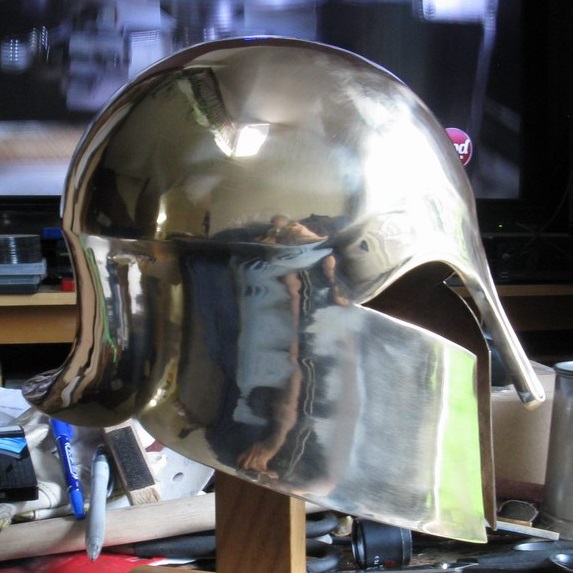 This type of helmet is known as a 'Corinthian helmet' by archaeologists because the goddess Athena is shown wearing it on Corinthian coins from its period of use (7th - 3rd Century BC). This style of helmet was also frequently featured on the decorative vases. 
This replica helmet was created based on an original Italo Corinthian style helmet that can be seen in the Pitt Rivers museum in Oxford (more detail here). The original has a large hole in the temple, presumably the result of battle. This helmet was created especially for the Museum and Iris Classics Centre at Cheney by Matt Lukes at Fabrica Romanorum. At some of our events, members of the public are able to try this helmet on!
 On Wednesday 16th November,Year 12 Classical Civilisation students visited the Ashmolean Museum for a special afternoon workshop and tour put on by the Ashmolean Museum as part of our Museum School program. 
When the group arrived, they spent fifteen minutes exploring the sorts of roles and jobs in museums - ranging from archaeologists and curators to events managers and artefact cleaners with outreach officer Clare Corey. They were then able to spend some time in the Aegean World gallery. The students have been studying the fascinating civilisations of the Minoans and Mycenaeans, and were excited to be able to see the many artefacts they had been learning about in lessons.
We are holding a large community
Festival of Natural History, Art, Classics & More on March 27th 2019 from 3.30 until 6pm
at Cheney School to celebrate the Rumble Museum at Cheney as it completes the Arts Council Accreditation process. 
The event's keynote speaker is Will Gompertz, BBC Chief Arts Correspondent.
As part of this celebration, we are creating an exciting new piece of public art in the form of a model Dragonfly Trail around the site. These dragonfly models will each have their theme designed by Cheney students to represent different areas of learning and and they will be permanent so that students, staff, and the wider community can explore them for years to come. They will be striking, colourful and educational works of art which will inspire the very diverse community of East Oxford and beyond.
There will be eight large dragonflies in our trail on site at Cheney School. We are also creating smaller ones for local primary schools to theme and bring for the day of the festival to be included in the trail on the day. East Oxford Primary, Bayards Hill, St Mary & St John, St Ebbe's and Windmill will all be involved.
The designs for the dragonflies will be chosen in December and displayed on the website. The large, permanent models with be installed at Cheney School in February ready for the Festival. Each dragonfly will have display boards to note the artist, the meaning behind the design, the sponsor, and QR links to museum pages exploring dragonflies from a natural history, artistic and literary perspective.
We are looking for businesses and organisations who might like to sponsor a dragonfly by providing some of the costs towards the model. This sponsorship would be stated on a sign next to the dragonfly as well as on our website, and on the trail maps and brochures we produce. You can choose which themed dragonfly you would like to sponsor if you would like to do so. 
If you would be interested in supporting this initiative at such an exciting juncture in the museum's development, we would be delighted to hear from you!
This year, The Rumble Museum at Cheney is running a variety of projects, exhibitions, talks and workshops to explore the story of Women's Suffrage in the UK and beyond.
There will be a variety of pop-up exhibitions and events throughout the year, starting with Year Eight students creating an alternative guide to the Weston Library's Exhibition "From Sappho to Suffrage" and culminating with an all day event on 14th December to mark the first time women in England voted in a general election.
One of the most exciting new projects we are developing together with the classics centre this year involves the design and creation of a number of murals which will explore possible biographies for some of the many Roman artefacts we have on display at the centre. 
Most of the items we have are pieces of much larger objects, and the idea behind these mural trails is to show the story of how some of these items would have been made and used, and eventually broken, and discovered centuries later as fragments. Each trail will consist of three murals which trace these stories; the artefact itself will then appear in small cabinet at the end of the mural trail. The trails will eventually appear all across the school campus, as well as in feeder schools. 
We are delighted to announce the Iris Festival of Natural History, Classics, Art and More on 27th March, 2019.
This event will be a large community event to celebrate the Rumble Museum at Cheney School as it continues the process of becoming the first Arts Council Accredited museum in a state school.
There will be five main discovery zones: Natural History, Art, Classics and Archaeology, Storytelling and Anthropology. Each zone will contain activities, stalls, exhibitions, workshops, and a wide range of visiting museums with artefacts to handle and explore. There will  be live shows including animatronic dinosaurs, as well as the opportunity to see birds of prey! There will also be fossils pits, printing at a vintage printing press, the Story Museum's Little Shop of Stories, an ancient Greek daily life museum, Roman music and mosaics, artists' exhibitions, as well as a cafe serving refreshments and hot and cold drinks.
In each zone, there is a wide range of visiting museums bringing artefacts to handle nd explore, as well as a range of organisations running exciting activities ranging from floating magnets to ball pits!
The event will include expert talks as well as a wide range of stalls, activities and exhibitions. Visitors will be able to follow an exciting new model Dragonfly Trail as they explore the site, with each discovery zone containing striking decorations, workshops, stalls,  performances and activities themed on different aspects of museum learning.
The stalls, activities and exhibitions run from 3.30 until 6pm. It is free and caters for all ages. Primary and secondary school groups are warmly welcome.
The following talks will also take place throughout the afternoon and evening:
3.30 - 4pm - Professor Richard Fortey, Natural Historian and Palaeontologist

4.15 - 4.45pm - Professor Helen King, 'Ancient Greek Magic and Medicine'
5.15 - 5.45pm - Peter Randall-Page, Artist and Sculptor, Royal Academician
6 - 6.45pm - Will Gompertz, BBC Chief Arts Correspondent
The festival itself does not require booking unless you are visiting with a school group. Talks do need to be booked, and can be done so by emailing This email address is being protected from spambots. You need JavaScript enabled to view it.
Hardit Singh Malik, an Indian student at Oxford who became a World War One fighter pilot, and May Wedderburn Cannan, a poet who volunteered to aid the war effort in France, are among those featured in a forthcoming exhibition
Oxford: The War and the World.

The Rumble Museum is privileged to be hosting this exhibition from 1st to 20th December - viewing by appointment only - please email
This email address is being protected from spambots. You need JavaScript enabled to view it.
to request a visit. We are holding a launch event on
Friday 7th December, 3.30 - 4.30pm
for the community. There will be a short talk by local historian Liz Woolley, followed by refreshments and an opportunity to view the exhibition. Please email on
This email address is being protected from spambots. You need JavaScript enabled to view it.
to book.